With Season Six underway, the team have been working on new Adventures, new Voyages and additional fixes based on feedback from the community. We're introducing more of these features in today's release, update 2.5.1.1.
For a refresher on all the new content that arrived at the start of Season Six, check out the launch release notes!
Adventures
[
]
It's time for Sea of Thieves' third time-limited Adventure, driving the grand story of its people and pirates ever onward into a confrontation with a beast from the deepest legends! Play your part from April 21st...
'The Shrouded Deep' (April 21st – May 12th)
Legend of the Veil
[
]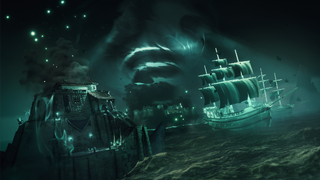 Following the events of 'The Shrouded Deep', this new multi-stage Voyage summons the Sea of Thieves' hard-bitten Pirate Legends to help Belle and the Pirate Lord restore the lost Veil Stones to the Veil of the Ancients!
Legend of the Veil Commendations and Rewards
Expanded Athena's Fortune Ranks and Rewards
Pirate Legends can now continue progressing through the Athena's Fortune Trading Company up to rank 30. As players climb the ranks, they can unlock access to ancient rewards from the Legendary Shipwright: the Veil of the Ancients Flag, Hull, Sail, Cannons, Capstan, Wheel and Figurehead.
Reaching the prestigious rank 30 with Athena's Fortune will unlock access to the Veil of the Ancients Costume.
With the original Legendary Weapons becoming exclusive following the closure of The Arena, a new set of weapons fit for Pirate Legends has now been made available. The new Legendary Fortune Pistol, Blunderbuss, Eye of Reach and Cutlass are now available from vendors in the Pirate Legend Hideout, unlocked by progressing through ranks 20-30 in Athena's Fortune.
Outpost Cosmetics
[
]
Fixed Issues
[
]
Gameplay
Larinna now offers new Letters of Recommendation for purchase.
Players who have enabled Virtual Keyboard while playing on console will now find that text chat continues to function as expected when switching to Steam.
Visual and Audio
When attacking a Megalodon with a cannonball, the appropriate hit audio effect can now be heard.
Performance and Stability
Improved server performance when groups of Phantoms arrive during an encounter.
Known Issues
[
]
'The Shrouded Deep' Defeated Megalodon Rewards
Following the defeat of the Shrouded Ghost or another summoned Megalodon, rewards may remain beneath the surface, requiring players to swim down and retrieve them.
Reduced Server Performance
Players may experience scenarios where they encounter ping spikes at random while playing, resulting in rubberbanding or client stutters.
Steam Achievement Unlocking Issues
Some Steam players may find that after an achievement is unlocked in the game, it is not unlocked within Steam.
Ranged and Melee Weapon Hit Detection
In areas of intense action, players may find themselves firing shots or landing strikes that do not cause damage to their targets. While small improvements continue to be delivered during our regular updates, we are continuing to investigate and identify further improvements to the player combat experience.
To learn more about known issues in Sea of Thieves currently being tracked and their status, head over to our Known Issues support site article.
Download and Installation
[
]
Download size:
Xbox Series X: 5.37 GB
Xbox Series S: 3.56 GB
Xbox One X: 5.37 GB
Xbox One: 3.56 GB
Microsoft Store: 5.2 GB
Steam: 4.77 GB