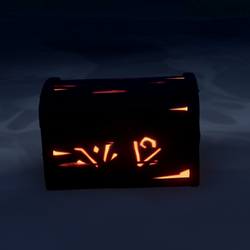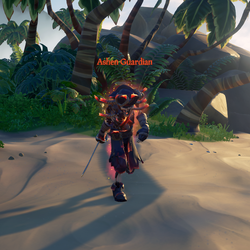 An Ashen Chest is a type of a Container Chest in Sea of Thieves, which appears locked and must be unlocked using an Ashen Key. Ashen Chests are also a type of Bilge Rats Treasure that can be sold to the Bilge Rats both locked and unlocked for 5 Doubloons. Alternatively they can be sold to the Reaper's Bones for Doubloons and Reputation instead. Ashen Chests are always guaranteed to contain at least one random Ashen Tome aside other Treasure items.
Mechanics
[
]
Every Ashen Chest is found locked, requiring the Crew to find and use an Ashen Key to open the chest. Once opened, the Chests reveal three Treasure items. An opened Chest acts identically to any Container Chest, allowing the transportation of three small Treasure items.
Ashen Keys can be found from the following sources:
Where to Find
[
]
Ashen Chests can be found from the following sources:
Rewards
[
]
Treasure Pool
[
]
Every Ashen Chest opened with an Ashen Key will reveal 3 Treasure items:
1 guaranteed random Ashen Tome
2 additional Items that can be the following:
Ashen Chests received as rewards for an Ashen Lord Battle appear already opened and are more similar to Collector's Chests in that they have Gold and 0-3 Treasure items inside. The Treasure itself can be any of the regular Ashen Treasure pool.
Selling Ashen Chests
[
]
Ashen Chests can be sold both locked and unlocked to:
The following is the reward chart for sold Ashen Chests (only applicable when selling to the Reaper's Bones):
Notes
[
]
Trivia
[
]
Commendations
[
]
Pirate Chat Wheel
[
]
Here is the Pirate Chat Wheel for the Ashen Chest: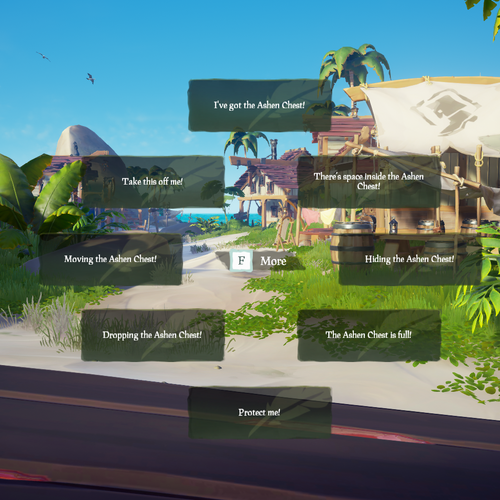 ---