Bone Crusher Set
Details
Type
Cosmetic Set
Cost
270,690 
Cost
280 
Cost
2,988 
The Bone Crusher Set is a Skeleton themed Cosmetic Set in Sea of Thieves. Some of the Set pieces were only available for a limited time during Skeleton themed Bilge Rat Adventures. Some parts of the Set were tied to Commendations and were made permanently available at Outpost Stores. Before the Anniversary Update, Bone Crusher Set items could only be purchased from the Stores at Morrow's Peak Outpost in The Devil's Roar.
A more expensive green and brown recolour of the set, named the Fearless Bone Crusher Set is available from the Black Market for Doubloons.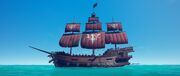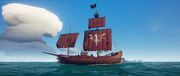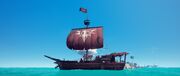 Set Components
[
]
Note: Items with a purchase price of Doubloons, in addition to the Bone Crusher Scars, were time-limited items split between various Content Update events and are no longer obtainable.
Clothing
[
]
(Partially limited to Skeleton Thrones event)
| Image | Name | Cost | Rep | Type | In-game description |
| --- | --- | --- | --- | --- | --- |
| | Bone Crusher Belt | 1,350  | | Belt | "With a bone buckle, this skelly belt is 100% natural materials." |
| | Bone Crusher Boots | 1,350  | | Boots | "You have bone on your boots, which raises serious questions about your socks." |
| | Bone Crusher Dress | 20  | | Dress | "The skellies will still attack you in this, but maybe they'll think twice." |
| | Bone Crusher Gloves | 1,350  | | Gloves | "You can only wonder why you didn't think to adorn your fists with bones sooner." |
| | Bone Crusher Hat | 20  | | Hat | "You found the skeleton thrones, now you wear the skeleton bones." |
| | Bone Crusher Jacket | 20  | | Jacket | "A jacket adorned with bones, perfect for thrill-seekers and taxidermists." |
| | Bone Crusher Trousers | 2,700  | | Bottoms | "Even your trousers have bones… you know what, never mind." |
Vanity
[
]
(Scar item time-limited to Cursed Sails event)
| Image | Name | Cost | Rep | Type | In-game description |
| --- | --- | --- | --- | --- | --- |
| | Bone Crusher Adorned Hair | 1,350  | | Hair | "A macabre mullet into which bones have been woven. Useful when sailing in high winds." |
| | Bone Crusher Beard | 1,350  | | Beard | "Discreetly inform pirates styling this beard that they've got a little someone on their face." |
| | Bone Crusher Eyepatch | 3,050  | | Eyepatch | "This bony eyepatch really carries off that gloomy pirate look you've heard about." |
| | Bone Crusher High-Tie Hair | 1,350  | | Hair | "A tie made of bone can keep even the must unruly hair out of your eyes." |
| | Bone Crusher Hook | 4,050  | | Hook | "This skeletal hook will really creep people out when you pick your nose. Or theirs." |
| | Bone Crusher Pegleg | 4,050  | | Pegleg | "A skeleton pegleg, perfect for stomping on skeleton foes." |
| | Bone Crusher Scars | 0  | | Scars | "This skeleton scar surely has an impressive and wince-inducing story behind it!" |
| | Bone Crusher Tattoo | 0  | | Tattoo | "These tattoos depict some terrifying bones and teeth. Not to be used as an anatomical guide." |
Equipment
[
]
| Image | Name | Cost | Rep | Type | In-game description |
| --- | --- | --- | --- | --- | --- |
| | Bone Crusher Banjo | 3,500  | | Banjo | "Crafted from the bones of the dead, this has a decidedly hollow twang." |
| | Bone Crusher Bucket | 1,900  | | Bucket | "Take bites out of the bilge with a shark-jaw bucket." |
| | Bone Crusher Compass | 2,800  | | Compass | "Maybe these old bones will help your find your way home." |
| | Bone Crusher Concertina | 2,850  | | Concertina | "Almost looks like it might start playing itself, doesn't it?" |
| | Bone Crusher Drum | 3,500  | | Drum | "Now this is a drum that will rattle your bones." |
| | Bone Crusher Fishing Rod | 9,140  | | Fishing Rod | "This rod is made from stiff bone and there's really nothing funny about that." |
| | Bone Crusher Hurdy-Gurdy | 2,850  | | Hurdy-Gurdy | "A skeleton hurdy-gurdy will surely play a tune loud enough to wake the dead." |
| | Bone Crusher Lantern | 1,900  | | Lantern | "A lantern for the truly macabre, this will light your way in the eeriest fashion." |
| | Bone Crusher Pocket Watch | 2,800  | | Pocket Watch | "Tells the time, while also serving a grim reminder that time is running out." |
| | Bone Crusher Shovel | 1,850  | | Shovel | "What better than a skeleton for digging in the earth?" |
| | Bone Crusher Speaking Trumpet | 2,300  | | Speaking Trumpet | "If your crew won't listen, tell them this trumpet is decorated with the bones of the last crew." |
| | Bone Crusher Spyglass | 3,800  | | Spyglass | "See what's coming, unlike the previous owner of these bones." |
| | Bone Crusher Tankard | 900  | | Tankard | "Drink from the skull of your enemy! As classic as it is unhygienic." |
Weapons
[
]
(Limited to Gunpowder Skeletons event)
| Image | Name | Cost | Rep | Type | In-game description |
| --- | --- | --- | --- | --- | --- |
| | Bone Crusher Blunderbuss | 15  | | Blunderbuss | "Shoot skellies with blunderbuss, make new blunderbuss from bones, shoot more skellies!" |
| | Bone Crusher Cutlass | 15  | | Cutlass | "This sword cuts right to the bone." |
| | Bone Crusher Eye of Reach | 15  | | Eye of Reach | "Crafted from the bones of defeated skeletons, to really add insult to injury." |
| | Bone Crusher Pistol | 15  | | Pistol | "A bone-handled pistol. Death begets more death!" |
Ship
[
]
(Partially limited to Cursed Sails event)
| Image | Name | Cost | Rep | Type | In-game description |
| --- | --- | --- | --- | --- | --- |
| | Bone Crusher Cannons | 69,550  | | Cannons | "These bone-covered cannons look ready to hole some hulls and smash some skeletons!" |
| | Bone Crusher Capstan | 69,550  | | Capstan | "This creepy capstan raises the anchor as fast as your sword drops skeletons!" |
| | Bone Crusher Figurehead | 40  | | Figurehead | "A mighty set of jaws, giving your ship that skeletal savageness it deserves." |
| | Bone Crusher Flag | 40  | | Flags | "A skull on a red field, objectively impressive." |
| | Bone Crusher Hull | 40  | | Hull | "Now your ship bears the terrifying visage of death, which is nice." |
| | Bone Crusher Sails | 40  | | Sails | "When the skellies see you coming, they'll know you've got a bone to pick." |
| | Bone Crusher Wheel | 69,550  | | Wheel | "Put the skeletons you smash to better use as a ship's wheel. They can guide you to the next battle!" |
Pet Outfits
[
]
| Image | Name | Cost | Rep | Type | In-game description |
| --- | --- | --- | --- | --- | --- |
| | Alsatian Bone Crusher Outfit | 249  | | Pet Outfit | "Give your loyal Alsatian an edge against the elements with this sturdy outfit." |
| | Barbary Bone Crusher Outfit | 249  | | Pet Outfit | "A tough leather jacket and hat will offer your Barbary some protection in a fight." |
| | Capuchin Bone Crusher Outfit | 249  | | Pet Outfit | "This outfit suggests your Capuchin has survived more than its fair share of dangers..." |
| | Cockatoo Bone Crusher Outfit | 249  | | Pet Outfit | "This striking eyepatch and jacket shows your Cockatoo has been in a battle... or 'too." |
| | Inu Bone Crusher Outfit | 249  | | Pet Outfit | "Give a dog a bone - in fact, give your Inu several as part of this striking outfit." |
| | Macaw Bone Crusher Outfit | 249  | | Pet Outfit | "A hat decorated with bones lends a scary, yet stylish, look to any Macaw." |
| | Marmoset Bone Crusher Outfit | 249  | | Pet Outfit | "A Marmoset with a hook for a paw? That should make climbing even easier..." |
| | Mau Bone Crusher Outfit | 249  | | Pet Outfit | "A pet as slinky as a Mau still looks ferocious in this bone-studded outfit." |
| | Parakeet Bone Crusher Outfit | 249  | | Pet Outfit | "Heavy leather straps help protect your Parakeet - but don't worry, it can still fly." |
| | Ragamuffin Bone Crusher Outfit | 249  | | Pet Outfit | "Even a scruffy Ragamuffin can look somewhat stately in this commanding outfit." |
| | Whippet Bone Crusher Outfit | 249  | | Pet Outfit | "This fine piece of clothing is as sleek as the Whippet that wears it." |
| | Wildcat Bone Crusher Outfit | 249  | | Pet Outfit | "Your trusty Wildcat will look even less tame when wearing this hardy outfit." |
Gallery
[
]
Patch history
[
]