Cats
Details
Type
Pet
Behaviour
Passive
Cats are one type of available companion Pets in Sea of Thieves. They can be purchased from the Pirate Emporium for Ancient Coins. Cats tend to be more independent in nature, looking for places to nap or hang out on the Ship.
Cats are mostly mechanically identical to other Pet Species. The major difference is their large size, making Pirates have to use two hands to hold them. Cats also have unique sound effects and interactions with Pirate Emotes.
Types of Cats
[
]
There are three species of Cats in the game: the rugged Wildcats, the stocky Ragamuffins and the skinny Maus.
Wildcats
[
]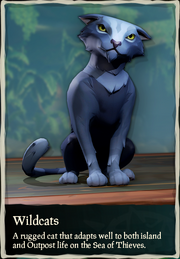 The following is a list of all the Wildcats
| Image | Name | Source | Cost | Set | In-game description |
| --- | --- | --- | --- | --- | --- |
| | Alabaster Wildcat | Pet Chest | | Silver Blade | "A curious feline whose knowing gaze suggests it has seen something of the future." |
| | Cavalier Wildcat | Pirate Emporium | 499  | Standalone Cosmetics | "A bit feral and mangy but loyal to those who feed them, Wildcats and pirates are a perfect match." |
| | Claycoat Wildcat | Pirate Emporium | 499  | Standalone Cosmetics | "A bit feral and mangy but loyal to those who feed them, Wildcats and pirates are a perfect match." |
| | Gold Curse Wildcat | Pirate Emporium | 649  | Gold Hoarders | "The Gold Curse that turns skin golden affects animals too, if they sleep on your coin pile." |
| | Island Wildcat | Pirate Emporium | 499  | Standalone Cosmetics | "A bit feral and mangy but loyal to those who feed them, Wildcats and pirates are a perfect match." |
| | Lodestar Cat | Pirate Emporium | 649  | Lodestar | "Don't be fooled by the serene majesty of this cosmic kitty. The mess it makes is otherworldly." |
| | Ratcatcher Wildcat | Pirate Emporium | 499  | Standalone Cosmetics | "A bit feral and mangy but loyal to those who feed them, Wildcats and pirates are a perfect match." |
| | Reaper's Heart Cat | Pirate Emporium | 649  | Reaper's Heart | "Cool, calculating and mysterious... If that's you, this cat will make the perfect companion." |
| | Sapphire Wildcat | Pirate Emporium | 499  | Standalone Cosmetics | "A bit feral and mangy but loyal to those who feed them, Wildcats and pirates are a perfect match." |
Ragamuffins
[
]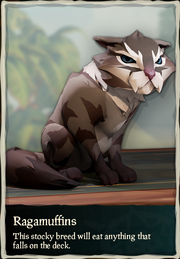 The following is a list of all the Ragamuffin Cats
Maus
[
]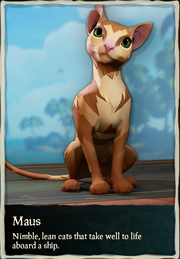 The following is a list of all the Mau Cats
Cat Outfits
[
]
The following are all the available Pet Outfits for Cats