Dogs
Details
Type
Pet
Behaviour
Passive
"
Dogs are the pet of choice for pirates who want at least one loyal crewmate.
Dogs are a type of available companion Pets in Sea of Thieves. They can be purchased from the Pirate Emporium for Ancient Coins. Dogs are loyal to their owner, following them on and off the Ship.
Dogs are mostly mechanically identical to other Pet Species, especially Cats due to their large size. Dog hangout spots are rather on the deck of the Ship, instead of the railings. Dogs have unique sound effects, animations and interactions with Pirate Emotes.
Types of Dogs
[
]
There are three breeds of Dogs in the game: the shepherd Alsatians, the fluffy Inus and the skinny Whippets.
Alsatians
[
]
Alsatians bred for the Sea of Thieves are loyal, clever and barely get seasick at all.
The following is a list of all the Alsatians
Whippets
[
]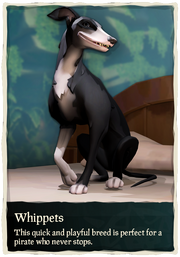 This quick and playful breed is perfect for a pirate who never stops.
The following is a list of all the Whippets
Inus
[
]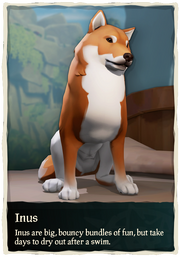 Inus are big, bouncy bundles of fun, but take days to dry out after a swim.
The following is a list of all the Inus
Dog Outfits
[
]
The following are all the available Pet Outfits for Dogs
Trivia
[
]
Alsatian is an alternate name for the real-world German Shepherd dog breed; the name was used in the UK from after the First World War until 1977 when its name was changed back to German Shepherd.
The real-world Whippet is a medium sized English dog breed, originally bred for hunting, descended from Greyhounds.
The real-world Shiba Inu is a small-to-medium sized Japanese dog breed, originally bred for hunting.
Upon striking the bell on the lower part of the mast, a dog (of any variation) will follow you.