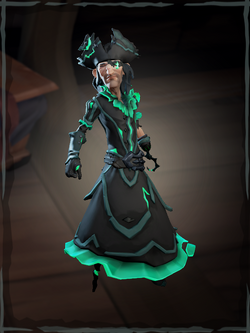 The Ghost Set Items are only for the most Legendary of the Pirate Legends. These set pieces are slowly unlocked for purchase at Athena's Fortune Hideout by gaining Reputation Ranks with or earning Commendations for the Athena's Fortune Company as a Pirate Legend. Ghost Set Items (often called Ghost Athena Items) are black with floaty neon green "ghost" particles.
Ghost Pet Outfits can be bought for Pets at the Pirate Emporium for Ancient Coins by anyone who has reached the level 20 Reputation Rank with Athena's Fortune.
The Ghost Set is one of the more expensive Sets in the game.
Ghost Items that have a Rank unlock requirement can be purchased by non-Pirate Legends.
Set Components
[
]
Clothing Items
[
]
| Image | Name | Cost | Rep | Type | In-game description |
| --- | --- | --- | --- | --- | --- |
| | Athena's Fortune Costume | 68,300  | | Costume | "This complete outfit is a ready-made style, for Legends who fight and drink all the while." |
| | Ghost Belt | 13,650  | 5 | Belt | "Effortlessly holds up the heaviest of trouser with an eerily unexplained supernatural force." |
| | Ghost Boots | 13,600  | 2 | Boots | "Some say they have seen these bewitched boots walk by themselves when their owner is asleep." |
| | Ghost Dress | 54,000  | 6 | Dress | "Swirls around your body like a ethereal shroud, it's the height of otherworldly style." |
| | Ghost Gloves | 13,900  | 3 | Gloves | "Many hands make light work, so gain yourself a helping hand or two with these enchanted gloves." |
| | Ghost Hat | 68,000  | 10 | Hat | "Filled with the thoughts of long dead pirates, let's hope they have got something useful to say." |
| | Ghost Jacket | 67,875  | 6 | Jacket | "Full on fearful fashion ensures you'll always cut a spectral dash through any crowded tavern." |
| | Ghost Trousers | 27,300  | 4 | Bottoms | "Beware! The haunted pockets on these make gold vanish, or that might be due to their scary cost." |
Vanity Items
[
]
| Image | Name | Cost | Rep | Type | In-game description |
| --- | --- | --- | --- | --- | --- |
| | Ghost Eyepatch | 30,500  | 8 | Eyepatch | "Gives even the most timid of pirates the power to gaze upon their rivals with a fearful stare." |
| | Ghost Hook | 40,750  | 9 | Hook | "Anyone who believes ghosts aren't real will get a ghastly shock when you grab them with this." |
| | Ghost Pegleg | 40,850  | 7 | Pegleg | "Ghosts are well known for their disembodied heads, but have you ever seen a disembodied peg leg?" |
Equipment Items
[
]
| Image | Name | Cost | Rep | Type | In-game description |
| --- | --- | --- | --- | --- | --- |
| | Ghost Banjo | 24,995  | 16 | Banjo | "Gone but not forgotten, banjo fans can play this for all eternity." |
| | Ghost Bucket | 13,350  | | Bucket | "Apparently this bucket had unfinished business in life." |
| | Ghost Compass | 19,880  | 11 | Compass | "A cold comfort to the wandering dead, lost between worlds." |
| | Ghost Concertina | 20,150  | 15 | Concertina | "This belonged to Captain Greymarrow himself and was the only wholesome hobby he ever had in life." |
| | Ghost Drum | 24,550  | 14 | Drum | "The beats of this drum echo in ways that some find most unsettling... like ghostly heartbeats." |
| | Ghost Fishing Rod | 45,750  | | Fishing Rod | "You'd think it would scare away the fish." |
| | Ghost Hurdy-Gurdy | 20,250  | 13 | Hurdy-Gurdy | "If you want to play a haunting melody, start with a haunted instrument!" |
| | Ghost Lantern | 13,500  | | Lantern | "Stand on a distant, foggy cliff with this haunting lantern held high and start a few ghost stories." |
| | Ghost Pocket Watch | 19,875  | | Pocket Watch | "A ghostly watch, ticking away the moments of your life. What happens if it stops?" |
| | Ghost Shovel | 13,250  | | Shovel | "Now here's a shovel that has dug more graves than it has dug up treasures." |
| | Ghost Speaking Trumpet | 16,350  | | Speaking Trumpet | "Make your voice loud enough to wake the dead!" |
| | Ghost Spyglass | 26,850  | 12 | Spyglass | "They say this spyglass lets you see the dead. Not true. When you look into it, the dead can see you." |
| | Ghost Tankard | 6,350  | | Tankard | "The ghost of a tankard that was smashed over Duke's head in a bar fight. Don't worry, it was empty!" |
Weapons
[
]
| Image | Name | Cost | Rep | Type | In-game description |
| --- | --- | --- | --- | --- | --- |
| | Ghost Blunderbuss | 67,775  | 19 | Blunderbuss | "Though this weapon is almost transparent, it fires very solid, very real buckshot." |
| | Ghost Cutlass | 49,750  | 20 | Cutlass | "Fear not; though ethereal, this cutlass blocks and bites as truly as any earthly steel." |
| | Ghost Eye of Reach | 67,595  | 18 | Eye of Reach | "Some ghosts cause destruction without even being seen. This is no exception." |
| | Ghost Pistol | 67,850  | 17 | Pistol | "Pull the trigger to make more ghosts." |
Ship Components
[
]
| Image | Name | Cost | Rep | Type | In-game description |
| --- | --- | --- | --- | --- | --- |
| | Ghost Cannon | 500,000  | | Cannons | "These cannons may look ghostly, but the huge balls of iron they fire are very, very corporeal." |
| | Ghost Capstan | 500,000  | | Capstan | "This spooky capstan looks like it could raise the dead as well as the anchor!" |
| | Ghost Figurehead | 500,000  | 10 | Figurehead | "Unlocked by being a 'Pirate Legend' and reaching reputation level 10 in Athena's Fortune." |
| | Ghost Flag | 50,000  | 3 | Flags | "Unlocked by being a 'Pirate Legend' and reaching reputation level 3 in Athena's Fortune." |
| | Ghost Hull | 500,000  | 5 | Hull | "Unlocked by being a 'Pirate Legend' and reaching reputation level 5 in Athena's Fortune." |
| | Ghost Sails | 500,000  | 7 | Sails | "Unlocked by being a 'Pirate Legend' and reaching reputation level 7 in Athena's Fortune." |
| | Ghost Wheel | 500,000  | | Wheel | "Rumour has it that this wheel was used to torture a pirate... by steering him to a grogless tavern." |
Pet Outfits
[
]
| Image | Name | Cost | Rep | Type | In-game description |
| --- | --- | --- | --- | --- | --- |
| | Alsatian Ghost Outfit | 249  | 20 | Pet Outfit | "In this glowing outfit, your Alsatian possesses a certain eerie elegance." |
| | Barbary Ghost Outfit | 249  | 20 | Pet Outfit | "Wearing this spectral hat, your Barbary looks uncannily like the Ferryman..." |
| | Capuchin Ghost Outfit | 249  | 20 | Pet Outfit | "Dress your pet in the ghost of a dead outfit... well we assume that's how these are made." |
| | Cockatoo Ghost Outfit | 249  | 20 | Pet Outfit | "With this haunting eyepatch, your Cockatoo will creep out any other pirate's pet." |
| | Inu Ghost Outfit | 249  | 20 | Pet Outfit | "Spooky but stylish, your Inu will guard you from otherworldly dangers." |
| | Macaw Ghost Outfit | 249  | 20 | Pet Outfit | "This glowing ruff will help your Macaw blend in when you're drinking in the Tavern of Legends." |
| | Marmoset Ghost Outfit | 249  | 20 | Pet Outfit | "A cute outfit with an otherworldly glow, if your pet is brave enough to wear it." |
| | Mau Ghost Outfit | 249  | 20 | Pet Outfit | "Now that's a cat of distinction, who has seen a thing or two and probably bitten them." |
| | Parakeet Ghost Outfit | 249  | 20 | Pet Outfit | "Ethereal duds like these make your Parakeet unsettlingly spooky." |
| | Ragamuffin Ghost Outfit | 249  | 20 | Pet Outfit | "A spectral hat gives your Ragamuffin a certain Legendary bearing." |
| | Whippet Ghost Outfit | 249  | 20 | Pet Outfit | "In such an ethereal outfit, your Whippet will never look 'ruff'." |
| | Wildcat Ghost Outfit | 249  | 20 | Pet Outfit | "This ghostly outfit suits a cat who has used up a few of their nine lives already..." |
Gallery
[
]
Patch history
[
]