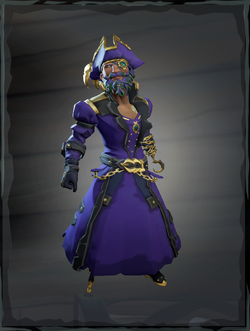 The Legendary Set is a Cosmetic Set devoted to the Pirate Legends of Athena's Fortune in Sea of Thieves. The Set mainly features rich Purple tones adorned with Gold and the Jade Reaper's Mark modeled after the Pirate Lord's necklace.
Legendary Clothing and Vanity items are given for free to any Player Pirate to become a Pirate Legend. This Title is only given to Pirates who have proven themselves to receive Rank 50 Promotions with three Trading Companies. The Equipment, Costume, Weapon and Ship Cosmetics can be purchased from Athena's Fortune Shop at Athena's Fortune Hideout, with some of them requiring the completion of various Athena's Fortune Commendations to be unlocked. Pirate Legends can also buy Pirate Legend Pet Outfits for their Pets from the Pirate Emporium for Ancient Coins.
Some Legendary Set items received a "Golden" version that were given out to any Players who reached Pirate Legend status before the first Anniversary of the game.
Two Inaugural Sails, along with two new cosmetic rewards introduced each season, are rewarded for any Pirates who make it into the two top Emissary Ledger Tiers by the close of a ledger.
With the level cap raised from 20 to 30, and to make up for players unable to reach Legendary Sea Dog Grade V upon the Sea Dogs Arena's Closure, Four Legendary Fortune Set weapons are available for purchase by progressing through the increased level cap.
Set Components
[
]
Clothing Items
[
]
| Image | Name | Cost | Rep | Type | In-game description |
| --- | --- | --- | --- | --- | --- |
| | Legendary Belt | | | Belt | "Buckle up you legend this worthy belt, from materials of highest quality smelt." |
| | Legendary Boots | | | Boots | "You've proved your worth in collecting loot, so step your feet into a befitting boot." |
| | Legendary Dress | | | Dress | "Be prepared to make your crew look a mess, as they marvel in awe at this legendary fine dress." |
| | Legendary Gloves | | | Gloves | "A legend on their crew everyone loves, wave your thanks with these prime gloves." |
| | Legendary Hat | | | Hat | "Whoever becomes legend the Pirate Lord said, shall henceforth be allowed this hat on head." |
| | Legendary Jacket | | | Jacket | "Now joined the legends you can choose to gloat, if this is your wish here's the perfect coat." |
| | Legendary Treasure Seeker Costume | 68,300  | | Costume | "This full outfit for a Pirate Legend is a jaunty combination of swagger, fabric and gold." |
| | Legendary Trousers | | | Bottoms | "At outpost shops be the envy of browsers, as you stride past in your legendary trousers." |
Vanity Items
[
]
| Image | Name | Cost | Rep | Type | In-game description |
| --- | --- | --- | --- | --- | --- |
| | Legendary Bound Beard | | | Beard | "An intricately twined and twisted facial hair arrangement, kept in place with golden clasps." |
| | Legendary Curse | | | Curses | "Almost nobody asks to be cursed, but Pirate Legends can show this magical malady with pride." |
| | Legendary Eyepatch | | | Eyepatch | "Other will crave what they can't hope to match, gaze down upon them wearing this eyepatch." |
| | Legendary Hook | | | Hook | "Don't be surprised when swinging this hook, that lesser pirates can't help but look." |
| | Legendary Lengthy Hair | | | Hair | "Long, luxurious locks which prove that Pirate Legends don't often have time for a trim." |
| | Legendary Pegleg | | | Pegleg | "A moment of your time others will beg, when see you standing on this special leg." |
| | Legendary Updo Hair | | | Hair | "A hair-raising approach to personal grooming that keeps long locks up and out of the way." |
Equipment Items
[
]
| Image | Name | Cost | Rep | Type | In-game description |
| --- | --- | --- | --- | --- | --- |
| | Legendary Banjo | 4,950  | | Banjo | "Even tone-deaf Legends can strum this banjo, then soon the shanties will flow!" |
| | Legendary Bucket | 2,650  | | Bucket | "Nothing compares to this legendary bucket, please make sure you never chuck it." |
| | Legendary Compass | 3,950  | | Compass | "Find your way through fog and storm, with a compass fit for your legendary form." |
| | Legendary Concertina | 4,000  | | Concertina | "From this concertina a tune you squeeze, your stunning talent never fails to please." |
| | Legendary Drum | 4,950  | | Drum | "When a pirate like you designs to drum a beat, all who hear will tap their feet." |
| | Legendary Fishing Rod | 9,140  | | Fishing Rod | "When a pirate of your stature casts a line, the crew knows it's time to dine." |
| | Legendary Hurdy-Gurdy | 4,000  | | Hurdy-Gurdy | "Ornate, finely-tuned and sturdy, this is a real pirate's hurdy-gurdy." |
| | Legendary Lantern | 2,650  | | Lantern | "The lantern of a fine corsair, shines a beam through the night air." |
| | Legendary Pocket Watch | 3,950  | | Pocket Watch | "Count the seconds, minutes and hours, until your legendary status towers." |
| | Legendary Shovel | 2,600  | | Shovel | "Shovel of a pirate beyond measure, ideal for digging lovely treasure." |
| | Legendary Speaking Trumpet | 3,250  | | Speaking Trumpet | "Ensure your legendary voice is loud, with a trumpet so clear and proud." |
| | Legendary Spyglass | 5,350  | | Spyglass | "This spyglass spots all trouble in view, yet all people want to see is you." |
| | Legendary Tankard | 1,250  | | Tankard | "A tankard fit for a legend's grog, then back tomorrow for hair of the dog." |
Weapons
[
]
| Image | Name | Cost | Rep | Type | In-game description |
| --- | --- | --- | --- | --- | --- |
| | Legendary Blunderbuss | 9,450  | | Blunderbuss | "When meeting a legend don't make a fuss, or you may feel the sting of this blunderbuss." |
| | Legendary Cutlass | 7,000  | | Cutlass | "With this handsome and deadly sword, how could a legend be ignored?" |
| | Legendary Eye of Reach | 9,450  | | Eye of Reach | "Your fame lives on, your foe does not, they don't even see you take the shot." |
| | Legendary Flintlock | 9,450  | | Pistol | "Ornate and precise is this deadly gun, in your skilled hands it's also great fun." |
Ship Components
[
]
| Image | Name | Cost | Rep | Type | In-game description |
| --- | --- | --- | --- | --- | --- |
| | Athena Cannon Flare | 496,125  | | Cannon Flare | "Each burst from your cannons glows the ghostly green of the Pirate Lord." |
| | Athena's Fortune Emissary Flag | 20,000  | | Emissary Flag | "The glory of the pirate's life in the Sea of Thieves shines bright by representing Athena's Fortune, earning more gold and reputation with the blessing of the Pirate Lord himself." |
| | Athena's Fortune Inaugural Guardian Sails | | n/a | Sails | "Your stunning haul of loot is worthy of recognition, so enjoy these legendary sails!" |
| | Athena's Fortune Inaugural Legend Sails | | n/a | Sails | "You're clearly a Legend among Legends! These sails honour your unrivalled contribution." |
| | Legendary Cannons | 69,550  | | Cannons | "Handsome cannons such as these, will bring lesser pirates to their knees!" |
| | Legendary Capstan | 69,550  | | Capstan | "When the anchor must be quickly raised, this legendary capstan will be praised." |
| | Legendary Figurehead | 300,000  | | Figurehead | "Proudly shows a legend arriving, while others flounder hopelessly striving." |
| | Legendary Flag | 30,000  | | Flags | "You're a Pirate Legend and you know it. Now they will, too." |
| | Legendary Hull | 300,000  | | Hull | "Spectacle for others made from planks, when compliments come just nod your thanks." |
| | Legendary Sails | 300,000  | | Sails | "A stirring moment that forever lasts, seeing these billowing from the masts." |
| | Legendary Wheel | 69,550  | | Wheel | "A true pirate legend must look imperious, with this mighty wheel they'll know you're serious." |
Pet Outfits
[
]
| Image | Name | Cost | Rep | Type | In-game description |
| --- | --- | --- | --- | --- | --- |
| | Alsatian Pirate Legend Outfit | 249  | | Pet Outfit | "This outfit is perfect for a Legend's Alsatian, that needs a costume transformation." |
| | Barbary Pirate Legend Outfit | 249  | | Pet Outfit | "If your Barbary is as Legendary as you, buy this outfit of a purple hue." |
| | Capuchin Pirate Legend Outfit | 249  | | Pet Outfit | "The monkey of a Legend must be dressed with equal effort to impress" |
| | Cockatoo Pirate Legend Outfit | 249  | | Pet Outfit | "A Legend who owns a Cockatoo, must surely buy this outfit too." |
| | Inu Pirate Legend Outfit | 249  | | Pet Outfit | "Clothes for a truly legendary dog, plus they're easy to spot in the fog." |
| | Macaw Pirate Legend Outfit | 249  | | Pet Outfit | "Behold your finely dressed-up Macaw, the most Legendary bird anyone saw!" |
| | Marmoset Pirate Legend Outfit | 249  | | Pet Outfit | "This Legendary outfit you must get, to really show off your Marmoset." |
| | Mau Pirate Legend Outfit | 249  | | Pet Outfit | "How can a Legend improve on this cat? The obvious choice is a Legendary hat." |
| | Parakeet Pirate Legend Outfit | 249  | | Pet Outfit | "Please dress well your Parakeet - no finer bird will you ever meet." |
| | Ragamuffin Pirate Legend Outfit | 249  | | Pet Outfit | "Your Ragamuffin is dressed for Athena; even its fur is looking cleaner." |
| | Whippet Pirate Legend Outfit | 249  | | Pet Outfit | "A legendary outfit for a special Whippet, just remember your dog is sure to rip it." |
| | Wildcat Pirate Legend Outfit | 249  | | Pet Outfit | "Only a Legend can without a scratch, make a Wildcat wear a patch." |
Gallery
[
]
Patch history
[
]