Line 494:
Line 494:
 

Uncharted [[Islands]] players can explore:

 

Uncharted [[Islands]] players can explore:

 
 
−

* '''I-12 and J-12''': Two small, empty islands with no items or resources. The only thing of interest on land is a broken tent, hinting that there were castaways or shipwreck survivors on the island. There are some underwater ruins (a stone gate and building foundations) similar to those found at another island. There is also a cave system that leads to an exit out in the coral reef. There are multiple shipwrecks and a large coral reef surrounding the islands, and an oceanic trench nearby where at the very bottom lies a large skeleton of an unknown sea monster. There are also underwater ruins of a temple complex similar in design and layout to the temple located at N-13, with a stone altar with a triangular hole in it. Since the [[Hungering Deep]] event the shipwreck of Whale Killer has been added, with its mast sticking out of the water. Some players have started calling the uncharted island Whale Killer Island after the sunken ship.

+

* '''I-12 and J-12''': Two small, empty islands with no items or resources. The only thing of interest on land is a broken tent, hinting that there were castaways or shipwreck survivors on the island. There are some underwater ruins (a stone gate and building foundations) similar to those found at another island. There is also a cave system that leads to an exit out in the coral reef. There are multiple shipwrecks and a large coral reef surrounding the islands, and an oceanic trench nearby where at the very bottom lies a large skeleton of an unknown sea monster. There are also underwater ruins of a temple complex similar in design and layout to the temple located at N-13, with a stone altar with a triangular hole in it. Since the [[Hungering Deep]] event the shipwreck of Whale Killer has been added, with its mast sticking out of the water. Some players have started calling the uncharted island Whale Killer Island after the sunken ship.

 

* '''K-9''': A crescent formation of land with an old shipwreck in the center pool overgrow by coral, with evidence on the land of people surviving there for some time (hammock, pots, skeletons, chains). Two skeletons can be found, one lay against a boulder, the other sitting at the edge of a cliff in slumped position. It appears they killed each other during a fight or duel. There's an underwater cave system that leads to a small candlelit cavern that contains some [[Barrel]]s. Some fans have named this island Dog Island or Canine Island as a joke, since the uncharted island is now located on the coordinates K-9, as K-9 is a common reference to dogs, or "canines."

 

* '''K-9''': A crescent formation of land with an old shipwreck in the center pool overgrow by coral, with evidence on the land of people surviving there for some time (hammock, pots, skeletons, chains). Two skeletons can be found, one lay against a boulder, the other sitting at the edge of a cliff in slumped position. It appears they killed each other during a fight or duel. There's an underwater cave system that leads to a small candlelit cavern that contains some [[Barrel]]s. Some fans have named this island Dog Island or Canine Island as a joke, since the uncharted island is now located on the coordinates K-9, as K-9 is a common reference to dogs, or "canines."

−

* '''N-13''': Small land and rock formations with an underwater cave system that leads to a dark, hollow air pocket chamber, containing an ancient tribal statue. There are also large number of shipwrecks laying around the Island and a temple hidden within an cave system underneath the coral reef, with also has a stone altar with triangular hole in it. No items or resources.

+

* '''N-13''': Small land and rock formations with an underwater cave system that leads to a dark, hollow air pocket chamber, containing an ancient tribal statue. There are also large number of shipwrecks laying around the Island and a temple hidden within an cave system underneath the coral reef, with also has a stone altar with triangular hole in it. No items or resources.

 
 
 

==== Rocky Islands ====

 

==== Rocky Islands ====
---
Revision as of 01:21, 28 February 2019
This page lists the locations in Sea of Thieves.
In addition to the physical locations listed below, the Ferry of the Damned is a ghost ship seen only by players who die. Players are transported here while they await respawning.
Location types
Regions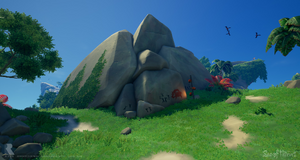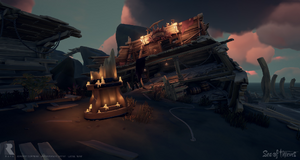 The Sea of Thieves map is divided into four regions. Each region is intended to have its own distinct theme and feel.
The Shores of Plenty: Comprises the North-West portion of the Map. It is composed mainly of small desert islands and islands with white sandy beaches and lush palm trees. The Sea of Thieves developers have stated that this region's feel was inspired by the Caribbean during the Golden Age of Piracy, along with a touch of Disney's Pirates of the Caribbean films.
The Ancient Isles: Comprises the Southern portion of the map. It is composed mainly of large islands full of mystery and ancient hideaways of pirate crews that used to sail these seas. The Sea of Thieves developers have stated that this region's feel was inspired by the Indiana Jones film franchise, in terms of adventure, exploring ancient ruins, and solving their mysteries; along with old swashbuckling adventure stories and pirate legends.
The Wilds: Comprises the North-East portion of the map. It is composed mainly of "haunted" and deserted islands containing the remains of deceased pirates. The Sea of Thieves developers have stated that they wanted this region to feel darker and more threatening, with near-permanent cloud cover and native plant life slowly withering and dying.
The Devil's Roar: Comprises the South-East portion of the map. It is composed mainly out of volcanic islands that covered half-burned plant life and strange red crystal growths. Devil's Roar is a deadly stretch of ocean pockmarked with volcanic elements, threatening all ships that pass through. There are caves dotted around the area that offers little protection, but with steam vents and falling rocks, nowhere is truly safe.
The Devil's Shroud: An area outside the border of the main map. Once in this area, the sea turns red and the sky goes dark. Soon after, your ship will begin to break into pieces.
Specific locations
Locations, their Map coordinates, what type they are and which regions they are located in. Only Large Islands support Riddle Maps.
Uncharted Locations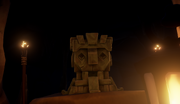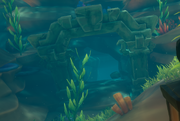 There are a number of "uncharted" locations that do not appear on the Map.
Shipwrecks are uncharted and spawn randomly at predetermined map locations.
Some locations are uncharted and unnamed:
Uncharted Islands
Uncharted Islands players can explore:
I-12 and J-12: Two small, empty islands with no items or resources. The only thing of interest on land is a broken tent, hinting that there were castaways or shipwreck survivors on the island. There are some underwater ruins (a stone gate and building foundations) similar to those found at another island. There is also a cave system that leads to an exit out in the coral reef. There are multiple shipwrecks and a large coral reef surrounding the islands, and an oceanic trench nearby where at the very bottom lies a large skeleton of an unknown sea monster. There are also underwater ruins of a temple complex similar in design and layout to the temple located at N-13, with a stone altar with a triangular hole in it. Since the Hungering Deep event the shipwreck of Whale Killer has been added, with its mast sticking out of the water. Some players have started calling the uncharted island Whale Killer Island after the sunken ship.
K-9: A crescent formation of land with an old shipwreck in the center pool overgrow by coral, with evidence on the land of people surviving there for some time (hammock, pots, skeletons, chains). Two skeletons can be found, one lay against a boulder, the other sitting at the edge of a cliff in slumped position. It appears they killed each other during a fight or duel. There's an underwater cave system that leads to a small candlelit cavern that contains some Barrels. Some fans have named this island Dog Island or Canine Island as a joke, since the uncharted island is now located on the coordinates K-9, as K-9 is a common reference to dogs, or "canines."
N-13: Small land and rock formations with an underwater cave system that leads to a dark, hollow air pocket chamber, containing an ancient tribal statue. There are also large number of shipwrecks laying around the Island and a temple hidden within an cave system underneath the coral reef, with also has a stone altar with triangular hole in it. No items or resources.
Rocky Islands
Rock formations jutting out of water, which cannot be explored on foot:
Sea Volcanoes
Introduced in the Forsaken Shores, Sea Volcanoes are large rock formations within the Devil's Roar that erupted once in while, making sailing and navigating through the Devil's Raor treacherous.
The Devil's Shroud
"Beyond the edge you may stray, a fateful end if you stay..." - Loading Quote
The Devil's Shroud, also better known by its community given name The Red Sea, is an area outside the border of the main map in Sea of Thieves. Any Ship that dares to sail off the edge of the map soon find themselves in peril. The environment starts to become dark and ominous with black clouds appearing that blackout the sun, as the sky and the sea themselves become as red as blood. Soon haunting and eerie sounds can be heard as your ship begins to break apart and sink. Increasingly severe, spontaneous holes will appear in your ship's hull.
In the Sea of Thieves Lore/Art Book the Devil's Shroud is described as an ominous grey fog bank surrounding entirety the Sea of Thieves. Anyone who enter this becomes disorientated and will end up lost within the fog, while the fog slowly dissolves all not-living organic matter and man-made materials that it touches. Also it apparently protects the world of Sea of Thieves from something no one knows what and no one will ever know
Trivia