Monkeys
Details
Type
Pet
Behaviour
Passive
"
Hairy, mischievous and fond of bananas - it's no wonder that pirates and monkeys get along.
Monkeys are one type of available companion Pets in Sea of Thieves. They can be purchased from the Pirate Emporium for Ancient Coins. Monkeys tend to be mischievous and playful in nature, not afraid to show their opinion about things happening around them.
Types of Monkeys
[
]
There are three species of Monkeys in the game: the short-haired Capuchins, the thicker, long-haired Barbarys and the skinny Marmosets.
Capuchins
[
]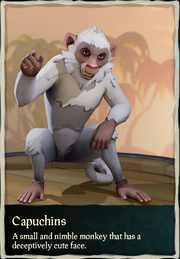 The following is a list of all the Capuchin Monkeys
| Image | Name | Source | Cost | Set | In-game description |
| --- | --- | --- | --- | --- | --- |
| | Amethyst Soul Capuchin | Pet Chest | | Celestial Steed | "In legend, amethyst wards against drunkenness. Some pirates need this monkey more than others!" |
| | Cloudy Capuchin | Pirate Emporium | 499  | Standalone Cosmetics | "This nimble monkey has a mischievous disposition, so keep your coin purse tightly shut!" |
| | Gold Curse Capuchin | Pirate Emporium | 649  | Gold Hoarders | "Sometimes monkeys just love to steal coins. Sooner or later..." |
| | Hunter's Call Forager Monkey | Pirate Emporium | 649  | The Hunter's Call | "This whiskered emperor tamarin prefers the finest foods - just like Merrick and his family." |
| | Lagoon Blue Capuchin | Pirate Emporium | 499  | Standalone Cosmetics | "This nimble monkey has a mischievous disposition, so keep your coin purse tightly shut!" |
| | Pink Paw Capuchin | Pirate Emporium | 499  | Standalone Cosmetics | "This nimble monkey has a mischievous disposition, so keep your coin purse tightly shut!" |
| | Reaper's Heart Monkey | Pirate Emporium | 649  | Reaper's Heart | "This construct of dark magic will follow you forever. Sadly it doesn't fly, my pretty." |
| | Sunset Capuchin | Pirate Emporium | 499  | Standalone Cosmetics | "This nimble monkey has a mischievous disposition, so keep your coin purse tightly shut!" |
| | Whitebeard Capuchin | Pirate Emporium | 499  | Standalone Cosmetics | "This nimble monkey has a mischievous disposition, so keep your coin purse tightly shut!" |
Barbarys
[
]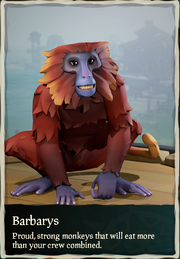 The following is a list of all the Barbary Monkeys
Marmosets
[
]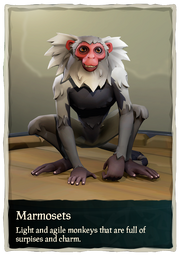 The following is a list of all the Marmoset Monkeys
Monkey Outfits
[
]
The following are all the available Pet Outfits for Monkeys