Parrots
Details
Type
Pet
Behaviour
Passive
"
Exotic birds known for their intelligence. Despite this, they like to befriend pirates.
Parrots are one type of available companion Pets in Sea of Thieves. They can be purchased from the Pirate Emporium for Ancient Coins. Parrots tend to be jovial in nature, like to sing and generally fly around their owner.
Types of Parrots
Edit
There are three species of Parrots in the game: the bold and bright Macaws, the small and vivid Parakeets and the large and proud Cockatoos.
The following are all the variations of the Macaw Parrot
Parakeets
Edit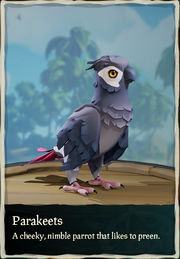 The following are all the variations of the Parakeet Parrot
Cockatoos
Edit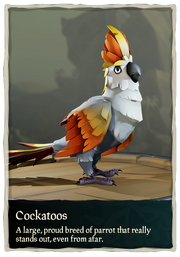 The following are all the variations of the Cockatoo Parrot
Contents
Parrot Outfits
Edit
The following are all the available Pet Outfits for Parrots
Other Parrots
Edit