Seaposts are small Outposts set up on various rock islets all over the Sea of Thieves. Each Seapost has a small Trading Post with a trader and a Hunter's Call representative. Each Seapost is easily visible due to a beacon atop the rock that is always lit.
Features
[
]
Trading Posts
[
]
Every Seapost acts as a Trading Post kept by a Trader NPC that sells a selection of 3 random cosmetics at a 10% discount:
Item inventory is completely random and will cycle every day (24 minutes) at 12:00 in the morning.
Items will be any regular Clothing, Vanity, Equipment, Weapons and Ship items purchasable with Gold at Outposts.
The daily selection of items is the same across all Seaposts.
The Hunter's Call
[
]
In addition to the Traders, each Seapost hosts a single Hunter's Call representative, who will accept any Fish, Meat or Treacherous Plunder for Gold and Hunter's Call Reputation.
Quest Board
[
]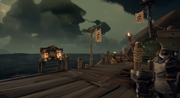 With the introduction of player buried treasure in Season Five, all Seaposts have been outfitted with a Quest Board that players can post their own maps at or receive maps posted by other pirates.
List of Seaposts
[
]
The following is a list of every Seapost and their map coordinates.
NPCs
[
]
Notes
[
]
Patch history
[
]
1.3.2 (October 31, 2018)

Seapost NPCs animations now have audio.
1.3.1 (October 10, 2018)

Titles will no longer incorrectly appear on Seaposts.
1.3.0 (September 27, 2018)