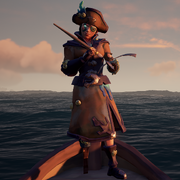 The Silent Barnacle Set is Cosmetic Set released as a colour variant of The Wailing Barnacle Set, following the same underwater motif.
The items are adorned with fish, barnacles, and coral. The colour palette is dark and grungy with rusty browns, mossy greens, and grimy violet.
The set pieces require the Hoarder of Barnacled Gold Commendation to be unlocked for purchase.
Set Components
[
]
Clothing Items
[
]
| Name | Cost | Rep | Type | In-game description |
| --- | --- | --- | --- | --- |
| Belt of the Silent Barnacle | 18,225  | n/a | Belt | "The Silent Barnacle's captain wore this belt while diving for rare treasures." |
| Boots of the Silent Barnacle | 18,225  | n/a | Boots | "These boots have walked across the seabed in search of underwater artefacts!" |
| Dress of the Silent Barnacle | 72,900  | n/a | Dress | "You're living the life aquatic in this undersea ensemble." |
| Gloves of the Silent Barnacle | 18,225  | n/a | Gloves | "Don't be surprised if there's a starfish living inside one or both of these gloves." |
| Hat of the Silent Barnacle | 91,800  | n/a | Hat | "You may get the odd fishy look, but this hat belongs to a true sea-lover." |
| Jacket of the Silent Barnacle | 91,125  | n/a | Jacket | "You fell in the drink so often that you decided to embrace it. Never mind the barnacles." |
| Trousers of the Silent Barnacle | 36,450  | n/a | Bottoms | "There may be deep-sea critters squirming around in these trousers, but they're more scared of you..." |
Vanity Items
[
]
| Name | Cost | Rep | Type | In-game description |
| --- | --- | --- | --- | --- |
| Eyepatch of the Silent Barnacle | 41,175  | n/a | Eyepatch | "This oceanic eyepatch keeps that stinging seawater out of your eye." |
| Hook of the Silent Barnacle | 54,675  | n/a | Hook | "This hook has been submerged for so long, it went from rusty to… crusty." |
| Pegleg of the Silent Barnacle | 54,675  | n/a | Pegleg | "A barnacle-encrusted pegleg - probably better than having barnacles stuck to your real leg." |
Equipment Items
[
]
| Name | Cost | Rep | Type | In-game description |
| --- | --- | --- | --- | --- |
| Banjo of the Silent Barnacle | 47,250  | n/a | Banjo | "Play a seaworthy shanty on this banjo that seems perfect for fans of all things fishy." |
| Bucket of the Silent Barnacle | 25,650  | n/a | Bucket | "A bucket that spent a long time underwater and probably wants a break from all that wet stuff." |
| Compass of the Silent Barnacle | 37,800  | n/a | Compass | "Trust this compass to guide you true, unlike its previous owner." |
| Concertina of the Silent Barnacle | 38,475  | n/a | Concertina | "Watch out for squirting jets of seawater when you play this soggy concertina." |
| Drum of the Silent Barnacle | 47,250  | n/a | Drum | "Dredged up from a shipwreck, this drum plays with the echoes of the deep." |
| Fishing Rod of the Silent Barnacle | 86,400  | n/a | Fishing Rod | "Somewhat ironically, this fishing rod first had to be fished out of the sea." |
| Hurdy-Gurdy of the Silent Barnacle | 38,475  | n/a | Hurdy-Gurdy | "However badly you might play, you'll always have a rapt audience of barnacles." |
| Lantern of the Silent Barnacle | 25,650  | n/a | Lantern | "Lights up even the dingiest shipwrecks, perfect for some fast looting." |
| Pocket Watch of the Silent Barnacle | 37,800  | n/a | Pocket Watch | "Still works and keeps excellent time, but sometimes makes you feel peckish." |
| Shovel of the Silent Barnacle | 24,975  | n/a | Shovel | "This watery shovel should serve you well, but the sand does seem to stick to it." |
| Speaking Trumpet of the Silent Barnacle | 31,050  | n/a | Speaking Trumpet | "Don't be surprised if this old trumpet from the depths merely produces a stream of bubbles." |
| Spyglass of the Silent Barnacle | 51,300  | n/a | Spyglass | "Used by a jealous captain to spy on his rival Stitcher Jim after he stole the name of his ship." |
| Tankard of the Silent Barnacle | 12,150  | n/a | Tankard | "Perfect for raising a toast to the open sea. Especially if you drink seaweed shandies." |
Weapons
[
]
| Name | Cost | Rep | Type | In-game description |
| --- | --- | --- | --- | --- |
| Blunderbuss of the Silent Barnacle | 127,575  | n/a | Blunderbuss | "Suited for the water, this blunderbuss may be the only thing between you and a shark's stomach." |
| Cutlass of the Silent Barnacle | 94,500  | n/a | Cutlass | "From the wreck of the Silent Barnacle, this blade seems fun but has a treacherous legacy..." |
| Eye of Reach of the Silent Barnacle | 127,575  | n/a | Eye of Reach | "Both a long-range weapon and a way to watch out for your favourite sealife." |
| Pistol of the Silent Barnacle | 127,575  | n/a | Pistol | "This barnacle-encrusted pistol has sent many pirates to a watery grave." |
Ship Components
[
]
| Name | Cost | Rep | Type | In-game description |
| --- | --- | --- | --- | --- |
| Cannons of the Silent Barnacle | 165,375  | n/a | Cannons | "Salvaged from The Silent Barnacle, a ship built by a jealous rival Stitcher Jim!" |
| Capstan of the Silent Barnacle | 165,375  | n/a | Capstan | "A fine, nautical capstan - though its last ship still languishes on the ocean floor." |
| Flag of the Silent Barnacle | 23,625  | n/a | Flag | "Raise a flag for your fellow sea-lovers, for all those who truly love the deep will find kinship." |
| Hull of the Silent Barnacle | 330,750  | n/a | Hull | "Watery hull liveries that will help your vessel blend in with the waves it glides upon." |
| Sails of the Silent Barnacle | 330,750  | n/a | Sails | "Sails designed for true sea-lovers, especially those that don't mind seeing the bottom of it!" |
| Wheel of the Silent Barnacle | 165,375  | n/a | Wheel | "A ship's wheel that has spent a bit too much time on the wrong side of the waves." |
Gallery
[
]
Patch history
[
]